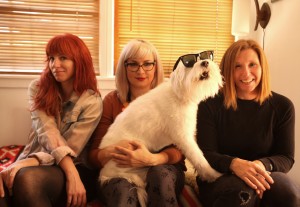 Former Hole drummer Patty Schemel is back on the drum kit, smashing it up with one of the coolest bands around – all-girl punk outfit Upset.
But it wasn't so long ago that she was on an altogether different path. Schemel, far right, rode the highs and lows of a life of drugs and rock 'n' roll, touring the world with the brilliant but messy rock band, Hole, fronted by the brilliant but messy Courtney Love. She saw her good friends, including Kurt Cobain, succumb to suicide and addiction – and nearly lost her own battle with heroin, which led to a life on the streets.
She documented her journey in a film Hit So Hard, which came out in 2011. The acclaimed film featured interviews with Hole members Love, Eric Erlandson, Melissa Auf der Maur and many others, plus reams of archival footage that Schemel shot during Hole's world tour in '94 and '95.
Making the film was a cathartic process. "Just going back through all the footage was like going into a time machine," says Schemel, now 47.
"When we started doing that film I wasn't playing music at all. I didn't want to play music. Slowly through the experience I started playing. It was good to reconnect with them (Hole) and then through the process make some art out of the experience and to tell my story."
The mid-'90s were an intense time. In April 1994 Kurt Cobain died of a self-inflicted gunshot wound in his Seattle home. His widow, young mother Courtney Love and her band were faced with a tough decision: to give up or go on. Their acclaimed album Live Through This was released just four days later, and two months later, Hole bassist Kristen Pfaff died of a drug overdose.
The band plunged into the only thing they knew how to do well: play music. They embarked on a world tour in August.
"It was chaotic and also it was such a tough time just because it was our first tour after Kurt and Kristen had died," says Schemel. "We hadn't sorted out anything. We just had these shows to play. We needed a bass player and we just went out and did it. There were days that were really hard and days that were amazing. But for a lot of it, I was just out of my mind on drugs or drunk or whatever.
"There were moments that were really special but now thinking back and looking at it it's nice to play music as an adult, but also to be a sober adult, to be able to experience everything, and to do something – all of that pressure and anxiety and extreme joy and happiness, I know how to sort through it all now."
The lowest point came for Schemel when she was replaced by a session musician on the band's album Celebrity Skin. A blow to her confidence sent her further down the path of drugs and eventually to the streets.
"That's the trick of the whole thing (drugs), nothing I ever saw, or any warning, nothing worked; the only thing was losing everything and just wanting to try one more time to live again. That was the wake-up call. I can't live anymore this way."
While it was a challenging time, there was also plenty to celebrate in the 1990s. It was an amazing era for women in rock. Girls were forming bands like never before, picking up not only microphones, but guitar and bass and drums. Female driven bands were hitting the mainstream of punk, pop and rock, getting high rotation on MTV, with many, like bands in the Riot Grrrl movement, directly pursuing a feminist agenda.
"That was a great time for women in music," says Schemel. "I'd like to see more bands like Bikini Kill addressing feminist issues."
While they may not be as visible as before, girls are still rocking it loud. Schemel name-checks bands like Dum Dum Girls and Potty Mouth. Performing with a new generation of talent is a lot of fun. Ali Koehler and Jennifer Prince of Upset were both Hole fans before they hooked up with Schemel. The band formed in a very 21st century way, with singer-guitarist Koehler contacting Schemel over Twitter. They bonded over a similar musical allegiance.
"It's just fun to play punk rock, fast music with some melodies, and to play with other women," says Schemel.
Now Schemel's life is very different. She also teaches drums and volunteers at the Rock Camp for Girls in Portland, Oregon. The kids inspire her as much as she inspires them. It reminds her of when she first started out. "I wanted to play the toughest thing I could think of so I started playing drums and got into punk rock," she says.
Schemel is also happily married and has a three-year-old daughter Beatrice with her wife Christina. Her life may have mellowed considerably, but she is still a rockin' mum.
"I think (our daughter) thinks that all other mums drive around with vans full of drums. But she knows that I go play shows. Me and Ali and Jen from Upset put together a song for a fundraiser for her pre-school."
Since releasing Hit So Hard, plenty of people have thanked Schemel for sharing her story. It has made an impact with many, including the gay and lesbian community, musicians and their fans, and addicts in recovery.
"That was one of the things about the film that was important when I was travelling around and doing the Q&As afterwards," says Schemel. "Telling the story connected with people. You can get through it."
Poster art by Jase Harper who will be appearing at the Zine and Indie Comics Symposium, August 29-31.