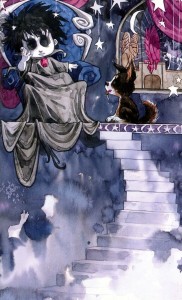 She has been headhunted by Neil Gaiman for his Sandman series and was one of the first female artists to draw Wonder Woman for DC. She has also created her own lovable characters Scary Godmother and Magic Trixie. And next week she is coming to Australia for the Supanova Pop Culture Expo.
When Jill Thompson first started getting into comics in her native Chicago there were few women artists. Now tons of GIRLS (look them up in your creature guide) have been inspired to make as well as consume comics, myself included.
Growing up on a diet of Archie and X-Men, Thompson knew it was something she wanted to do from an early age and it wasn't long before she made it her career. Known for reinterpreting Gaiman's Sandman characters as the uber-cute Little Endless, she has also won awards for her own Scary Godmother series of books and cartoons – and soon to be doll! Her latest Beasts of Burden comic also just hit the shops.
Ahead of her visit to Supanova I got to chat to the lovely Jill Thompson and discovered she is much more than just "the girl who can draw". Here she talks about how she got into the art form and how Neil Gaiman decided she was good enough to wait for.
"Way back when I started drawing comics there were very few women who drew comics. My foot in the door was I was easy to remember because I was 'that girl who wanted to draw comics'. Where everyone else was a bearded bespectacled guy with a plaid shirt and a portfolio, I was the girl that was showing her portfolio. And that I think got me remembered. There were only a few of us girls and some of us still get mistaken for each other even though we don't look anything alike.
"When I was a teenager I wanted to work for Marvel comics. I wanted to draw the X-Men. I also wanted to draw Snoopy. I told my mum when I grow up I want to draw Snoopy and she set me straight and said the reason you get to see Snoopy is because someone draws him. If you want to draw a comic you have to draw your own. I then started drawing comics that were similar to Snoopy. I then discovered Archie comics and loved those. And then because I really liked comics my father started bringing them home for me. On certain Fridays I would see him come home from the train and he had a little green bag under his arm and that meant he'd been to the newsstand.
"He would pick them out. He brought home what I considered scary comics at the time – and scary comics were superhero comics – because there was always a guy grimacing on the front or beating someone up. Every day my brother and I would come home from school and read them over and over and over, so that just by looking at the covers we'd know all the stories inside.
"It was somewhere between the Archie comics and the X-Men that I fully committed myself to this is what I'm going to do when I grow up. Some recommended I go to art school and I took their advice. I got a job while I was in art school for a company called First Comics. There was no big a-ha moment. It was kind of working for small companies and then working my way up to a large company.
"Happily one of the first things that I worked on at DC comics, the second thing that I worked on there, was Sandman with Neil Gaiman. While I was working on Wonder Woman Neil had seen my work when he was in the office and he really liked it. He wanted to work with me and my editor at the time said no, she has a contract so she can't do this. And he kept patiently waiting till my contract was up. So I could do the Brief Life story line and that's when I became someone whose name was recognised for something.
"There are more female creators now. It's changing because the readership is changing. People at conventions, it's a pretty good mix, sometimes 50/50. Sandman has always had a huge female readership and I've found that people who read Scary Godmother and Magic Trixie are a huge mix. Which is exactly what I wanted. I wanted it to be little kids, their parents, grandparents, both boys and girls. I just wanted to make fun comics that everyone can enjoy. I think I have accomplished that with my creator-owned work.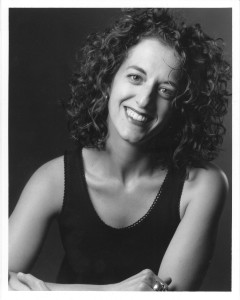 "There are so many more women doing comics. When I started there were a handful. You could count them on one hand and I would include myself. But now there are many, and there are so many women doing their own webcomics. The internet has created a fantastic venue for comics in general. I've also been lucky because some girls that have come up to me who have created their own comics have told me that the reason that they're doing what they're doing is because I was there – and it makes me feel that those are my girls and those are my children. I'm glad that I loved comics enough that that made me want to do comics, so my comics were there when they liked comics, so they knew that girls could do it."