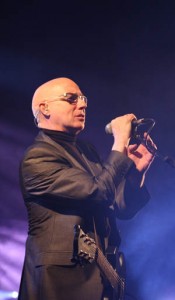 The Blitz club in London is where the 1980s was born. It was where young New Romantics (though you didn't dare call them that then) in make-up and hairspray outdid each other on the dance floor. Steve Strange of Visage was the strictest doorman in history, even turning away an underdone Mick Jagger. And a young Boy George took your coats (and then rifled through the pockets – his own admission!).
One man on the scene was Midge Ure, lead singer of Ultravox, who hit the big time with the unforgettable song Vienna. He also co-wrote Band Aid's Do They Know It's Christmas? as well as having a successful solo career and playing with Visage and Thin Lizzy. He's touring Australia right now, and I got to chat to him ahead of his visit.
He recently broadcast a documentary on the Blitz for Radio 4 in Britain, which is a fascinating listen. Here's a s little excerpt of our chat. The article originally published in The Sunday Mail, where he talks about the making of the Vienna video and Ultrovox's unlikely reunion and new album follows.
Q: Tell me what making the documentary was that like. Was that a trip down memory line?
Midge Ure: Yeah, it was. I've done quite a few programs for Radio 4. It's kind of a badge of honour for me to read for Radio 4 and The Blitz was one of them. It was great. It was very interesting going back and trying to relive how it all came about. A lot of people who weren't around at the time, they look at it and think it was incredibly glamorous.
Of course, it wasn't. It was incredibly a very tough time. It was the factory years. People were doing three-day weeks. People didn't have jobs. And The Blitz came out of that deprivation really. You had to make something wonderful out of the very little that you had and that's what happened. All these like-minded people went to one little club. Because the club's just a room. What makes it interesting is the people in the room and all these interesting arty characters there. John Galliano standing next to Boy George. Just this great mix of people. Just like any genre will have the club that they're supposed to go to. In the 60s, it would have been The Cavern Club. So it just happened to be The Blitz in the '80s.
Q: Do you remember first going there?
Ure: I don't remember the first time I went there. I went there an awful lot. We used to play at The Blitz. There was a little club called Billy's and Rusty Egan and Steve Strange took this club over one night a week can called it A Club for Heroes. They used to play all the music that we were listening to, that was coming out of Germany with the rock-synth music, a bit of David Bowie, all of these things mixed together. It got so popular they moved it from that club to The Blitz and of course, that was when the media found out about it all and of course, they made The Blitz very famous.
Q: So could you describe a typical night for me, like walking up through the door what you might see around you?
Ure: Well, I think the first thing you would see is a bunch of people waiting to get in who weren't allowed in because the door's policy was dreadful. They'd sit on the door and say, "You, you, you, you can come in. You, you're not getting in wearing that." You'd enter this place and see all these kids all dressed up looking like movie stars. Some were completely outrageous, wearing like bed sheets and with loads of makeup. Others were in 40s retro clothes. They'd gone into their granny's wardrobes and dug out whatever they could get and just looked absolutely fantastic.
In a way, it was the antithesis of what had come before which was the punk thing where it was all messy, ripped t-shirts, whatever. And the kids who started the punk look were the ones who started The Blitz. They were the ones who moved on, the instigators. When it became high-street fashion, they moved onto something else so they started this whole thing with The Blitz, this retro look. The moment that became fashionable, they moved onto something else. That's what happened. That seems to be an evolving thing.
Q: Obviously so many people, like Spandau Ballet, Boy George and yourself got famous while that club was in existence. How did that change things? Did the famous people keep going to the Blitz once they were famous?
A: I think they did keep going. Again, it moved on. The Blitz became too small and it moved on to Camden Palace, which was a massive venue. It used to hold two and a half thousand people as well. That became a massive big thing. It kind of started tapering off at that point so that the people who had instigated that had moved onto other things. The people who had become famous had moved on with their careers so they were away touring all the time. It changed like all these things do. You can't keep it encased in glass and it will stay like that forever. It has to evolve and sometimes to evolve, the things that make it work move away and that kind of happened to them.
Midge Ure is touring Australia right now! Details here.