This Saturday is the Comikaze 24 Hour Comic Challenge. "What's that?" I hear myself asking on behalf of you. It's Australia's version of 24 Hour Comics Day, where intrepid writers and artists challenge themselves to create a full 24-page comic book in only 24 hours.
A bunch of brilliant Brisbane comic creators will be holing up in Ace Comics and Games in Annerley this weekend. You can come along, see them work and cheer them on, and maybe even buy them a coffee, but don't poke the cages.
Myself and my comics buddy Dan Gilmore, artist for LUV (www.ilikeluvcomics.com), will be going along to try to make magic. (We hope to at least make coffee.)
Here is a before shot of Dan taken at South Bank last weekend.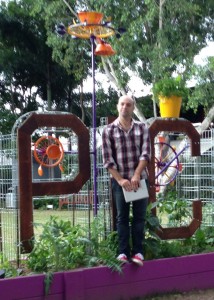 The comic book scene in Brisbane is strong, as I'm learning more and more. Recently I went along to Free Comic Day for which I got to interview two lovely artists Matthew Hoddy and Caitlin Major who released the epicly rad print book Space Pryates thanks to a Pozible campaign.
I was also lucky to meet artists and writers who are doing all sorts of varied stuff, from saucy anime (Sparkling Generation Valkyrie Yuuki) to Viz inspired gag humour (Despicable Man) to a space-age story with its own soundtrack (Sage Escape).
I got another surprise in the mail this week: the printed copy of Rat Park, another Pozible success story. Rat Park is a fascinating tale about little-known drug experiments done on rats in the 1970s, which throws new light on everything you thought you knew about addiction. Stuart McMillen's cute images and easily digestible story telling make for fun and informative reading. He's been translated into several languages, don't you know. You can find out more at stuartmcmillen.com.
Another event you should put in your calendar is ZICS, the 2013 Zine and Indy Comic Symposium (August 30-Sept 1) in which the powers of zines and comics combine in one fun and info-packed weekend at Brisbane's The Edge. (Sadly, I'll be in the northern hemisphere. Anyone know any cool comic event / groups / places of pilgrimage I should check out?)
So, there's heaps going on in this here town, and you should come on down and check it out this Saturday from 10am. There may be magic, there may be carnage. There will be coffee.