I was recently inspired to reconsider the old "all my friends are leaving Brisbane" question, after reading an article by Bridie Jabour, over at the new Guardian Australia.
She talked about the mass exodus of young people. But I think Brisbane is the kind of town people can easily stay in: a comfy deck chair in the sun, lean back, relax and you're never going to want to get out.
Brisbane, like many home towns, has a yo-yo effect. People leave and come back. I did. There's a hot and sticky glue to this Pleasantville paradise. It's easy to get stuck here, to melt into the pavement, to not move.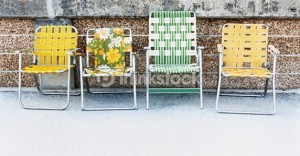 But the city has changed a lot. It's blossomed in ways that's surprised me (and not just the jacarandas). I always say that by the time I move to Sydney or Melbourne, Brisbane will be Sydney or Melbourne, and it's coming true: laneway cafes, hipster bars, GoMA… There's heaps going on, take the 24-hour comic challenge I was involved in last weekend. I've never seen so many productive people. I know many artists and musicians who love it here and choose to stay. Jeremy Neale of Velociraptor is a loud-and-proud Brisbane ambassador . "My friend calls these a passport shredder days," he told me, looking outside the window on a sunny day when we did a story on Brisbane's rising stars. Certainly many bands have said you don't need to leave town to "make it" anymore. And that's a great thing. The Stress of Leisure's recent record Cassowary (a true tropical bird) drips with a humid love for the city. But even the title of that band – the Stress of Leisure – sums up Brisbane's fatal flaw, its catch. It's a bit *too* easy.
Paradise Brisbane can be a bit of a siren's trap. That comfy deck chair can be just a bit too comfy, a bit too laid-back, a little too inviting of apathy. US TV show Portlandia has a fantastic song about the overlooked city of Portland, somewhere, culturally and geographically, between San Francisco and Seattle. "The Dream of the '90s is Alive in Portland" the song goes. "Sleep till 11/you'll be in heaven…"
"Portland is a city where young people go to retire." Well, that song could easily apply to Brisbane!
Certainly, I know plenty of people who are content to be content. But, then, what's wrong with being content? Maybe striving is overrated. The internet is full of people striving to be peaceful. Maybe making art and music is about being with friends, not on the covers of magazines or on massive stages. (Not that there aren't plenty of keen Brisbanites going for that goal.)
Maybe Brisbane has struck the pace of life that everyone else is looking for?
Brisbane has definitely out-grown its country-town diapers, that's true. (And really, that joke is getting old.) I do think we can be a bit navel gazing as a city at times. Constantly reprising our own history to prove that we have one. Constantly re-praising all the same seminal bands that came from here. (You know the ones.) "Look New York, Berlin! We have a navel too!" Way too many poems about jacarandas and verandas. But hey, write what you know.
I think the world is there to be explored. Physically or through media, books, culture… whatever is your bag. Personally, I'm all for trying different dishes before deciding that your nan's home cooked comfort-pie might possibly be your favourite. (Of course, all this talk is a first world luxury. We're all lucky that we can choose where we live. And the non-adventurers among us are probably leaving less of a carbon footprint.)
So, Brisbane, the most comfortable pillow I know. But what do you think? Do you love it or "just like" it? Is it a relationship you've outgrown or one you never want to leave. Let me know!