The Alameda County Fair was not on my to-do list, but with rides, strange and wonderful deep-fried foods on sticks and a free concert by Weird Al Yankovic, well, who could say no?
The County Fair, located somewhere in the expanse of the Bay Area, is pretty much like our Royal Exhibition, or the "Ekka" as we call it in sunny Queensland: a two-week long event where all the farmers come to town, producers show their wares and teenagers get drunk and throw up on rides and make out behind bushes. Or is it the other way around?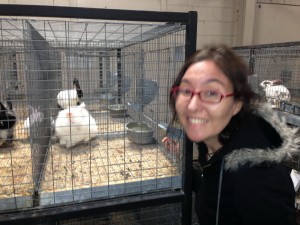 The only differences were that what we call dagwood dogs they call corn dogs, where we have chickens in cages, they have BUNNIES (illegal in my home state unless you have a magician's licence) and they have gun security checks at the main gate. Not without reason, considering an unfortunate Fourth of July incident from a few years back.
Enter the gates and you are bedazzled by a cavalcade of sights and smells: giant rides, giant hot dogs and giant kids eating giant hot dogs on giant rides.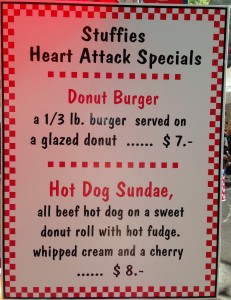 But it wasn't all award-winning deep-fried pineapple upside down cakes on sticks. I had a rather delicious veggie burger from a place called Stuffie's Char-Broiler. But don't be fooled. Stuffie's order of choice was a DONUT BURGER, which is a meat patty with lettuce and tomato served on a GENUINE Krispy Kreme donut bun (I keep accidentally spelling that right). But, before you ask, don't worry, it doesn't come with onions. AS IF!
There were many locals lining up to try this curious delicacy. Most of them had never had it before. There was a sense of nervous excitement in the air.
"I don't like tomatoes," one customer said with trepidation.
"Don't worry," the server reassured. "I don't like 'em either, but you can't even taste them."
Well, thank goodness for that. Who wants a watery tomato fouling up the deliciousness of my sugar-fat-meat combo?
The fair had a delightful atmosphere. It was great to walk around and see a sea of smiling faces as well as smacking lips. And to crown the day was the treat of seeing Weird Al perform live in the large amphitheatre. It was an evening of joy shared across generations. I was lucky enough to interview Sir Weird a year or so ago, and he was the ultimate gentleman. As Homer Simpson says, "He who is tired of Weird Al is tired of life". Well, I'm not tired of neither. So bring it on!
This blog was brought to you by: