The shot glass I picked up at the airport said Keep Portland Weird. And that lovingly expresses everything that is different about Portland, Oregon. This is a place where a bookstore – Powell's, the largest in the world – beats as its cultural heart, where kitchen gardens, growing raspberries, blueberries and kale, abound in every suburban street and people don't just hug trees they develop intimate, long-lasting relationships with them.
This is where you'll spot bearded hipsters in their natural habitat. Tattoos are practically a birthmark. And just as often as not it's the mums, not the toddlers, who are sporting fairy wings. When people run away *from* the circus they come to Portland. Here alternative is the mainstream.
My pre-visit impressions were pretty much based on the sketch comedy show Portlandia, and the fact that it was the Dandy Warhols' home town. The city did not disappoint. Apparently, the show divides people, but I'm sure I saw some of the characters, such as the dude with the big ear thingies riding by on his bike, and even met some of them. My couch surfing host openly confessed to being "that person who asks where and how the chicken she's about to eat was raised and who its brothers and sisters and parents were", and I witnessed this in action at an outing to the awesomely weird, art-smeared hotel Edgefield to the patience of an ever-tolerant waiter.
But Portland people care. They ride bikes everywhere and are actively thinking of alternatives. There's a scheme here where if you don't use your car often you can earn money by letting other people use it. I met so many transplants to the city, not just locals, people who moved here because they loved the ethos, the pace of life, the city that's not a city.
Artistically, musically, literally, there's a lot going on. Sure, the dream of the '90s might be alive in Portland, according to the show, but Portland is a place whose time is now. If New York shone in the jazz age of 1920s and San Francisco influenced the world with its hippy ethos in the 1960s, Portland really feels like a city coming into its own. "Remember Portland in the 2010s?" they'll say. "Man, that place rocked."
Portland also offered my first taste of couch surfing and now I'm a total convert. On a sunny day I rocked up to a stranger's house, let myself in and found myself in a tidy, warm home, with no one about but two cats. I felt like Goldilocks. Who was this person who lived here? This person was AMAZING. A beautiful home, books including Vonnegut, Joseph Campbell, Penny Arcade, Alain de Botton, Eloise, a door covered in comic strips. I felt more at home than in my own home. I later found out that this ideal person was actually an amalgamation of all the personalities in the house, and all amazingly lovely and generous people. I was taken out to try Viking pancakes at the local "food carts", an institution here (think street fair but quirky and weird) and to attend "beer church", where a group of philosophers have been meeting and discussing the meaning of life for years, while they quietly show us how to live it.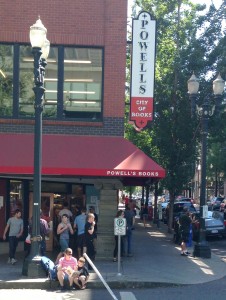 Most tourists to Portland visit the beautiful Japanese Garden and Rose Test Garden, with great views of the city and Mount Hood, but the No. 1 stop on the tourist route is Powell's "city of books". This behemoth medina of knowledge occupies a full city block and several floors in the centre of town. It's a tourist mecca. And it's fascinating that a bookstore – supposedly a moribund entity – is a city's cultural and spiritual hub. It's around this bookstore that all the barnacles of tourist traps, like Starbucks and gift stores, have clung. The store is so successful it even has shops at the airport. Walking through its labyrinthine shelves is a treat: invigorating and calming. It's almost spiritual. In the coffee shop the faithful sit in reverence, experiencing communion with a cup of coffee, buried in their own private bibles.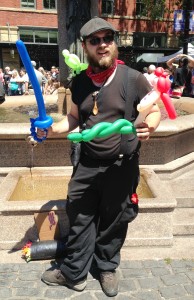 Of course, it's the people that make the place. At the Saturday market by the river I met a guy named Stone who made balloon animals. A member of gypsy band Underscore Orkestra, he'd been robbed of all his gear and possessions on tour in France and was trying to earn a dollar to get on the road again. Throw him a coin or two by visiting the band's website and tell them they should come to Woodford.
My comics buddy had recommended, by way of sending me a comic, that I go to a place called Devil's Point. Yeah, yeah… but by an odd turn of events I wound up there. I headed out one night to see Bauhaus singer Peter Murphy (he follows me around). I missed the show but ended up finding two crazy New Romantics, one a DJ, who ended up taking me on a memorable adventure. They took to Devil's Point, where DJ Kenoy works, for Sunday night Stripparaoke. If that sounds like stripper karaoke, that's because it is. Watching a sweet couple howling an out-of-tune versions of Somebody that I Used to Know while a physically gifted women twirls around a well-loved pole is something I'll never forget. Apparently there are more strippers per capita in Portland than any city in the US. Perhaps they get treated well, here? Later that night, my new friends took me to a private party at an empty S&M dungeon (not as scary as it sounds) where, as the only non-stripper female, I was invited to partake in an "octopus". This, I discovered, is ladies-only ritual where all the women rub their boobs in the birthday girl's face. I politely declined, but hey, I was flattered to be asked.
Speaking of segues, Portland has a huge outdoor culture too. The city is surrounded by Oregon's wondrous landscape: forested gorges, waterfalls, mountains. Summer is brief, but sweet, and when it comes the Portlandians hit it hard. They float in "inner tubes", giant tires, down the river. I live in a river city. Why don't we do that, Brisbane? My couch surfing host kindly took me on a drive up the gorge where we stopped at the famous Multnomah Falls. Apparently, one year a huge boulder came down splintering off to hit the groom of a nearby wedding party in the nads. Fortunately, according to his new wife, he was still able to perform his conjugal duties.
My Portland experience complete, I happily boarded the plane with my shot glass souvenir. I was hoping to hunt down a bearded hipster to put as a trophy head on my wall, but I am a committed vegetarian. So, Portland, something to write home about. Now, tell me good folks of Internetlandia, what's your favourite city and why? And Brisbane, tell me why we don't float down the river?