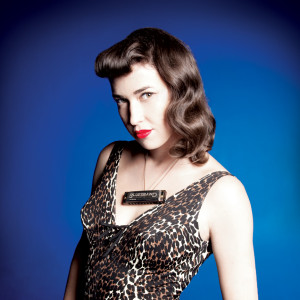 What started out as a journey of self-discovery, ended up being a love story. Early this year, Lanie Lane had an epiphany. The singer-songwriter announced she was quitting the music business. After seven years, two albums, and endless nights on the road, she realised that what had once been her dream career was bringing her more stress than joy.
A few months after her second album Night Shade came out, Lanie announced her decision to the public – that she would be downing microphone and guitars and taking an indefinite break.
Once the dust settled, and she had given herself time to gather her thoughts, Lanie decided to hit the road. She packed up her gear from her home outside Melbourne, sold off a lot of her stuff and took off with her dog Dingo.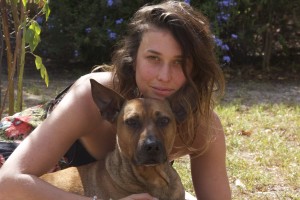 They travelled together in the Outback, meeting folks and seeing the sights, up through central Victoria, through country NSW, the Flinders Ranges, Coober Pedy, Uluru, Alice Springs and Tennant Creek. She retraced some of the steps she'd done on a similar journey when she was 18.
And, then, a bit like in her own version of Eat Pray Love, the journey took an unexpected course. On the way, she met a man who was to become the love of her life. The road took her to Yeppoon, near Rockhampton on the Queensland central coast. And it's there she's decided to lay down her swag permanently.
"I basically decided this year that I needed to get away from everything," she says from the lounge outside her bush home as she stops to notice a beautiful lizard that's walking past.
"I just packed up my whole house and all my possessions and bought this little shitty van. My dad built this single bed in the back.
"I met up with my new love in a place called the Devils Marbles, otherwise known as Karlu Karlu, which means boulder boulder. He's a documentary filmmaker and we ended up going to Borroloola, and visited the old ladies up there, and then we went to Kakadu and visited some of my family as I call them, my bush mum, who is like a traditional owner of Kakadu.
"Then I grabbed my car again and came over through central Queensland and now I'm here. I didn't see the trip ending in such an awesome way, but now I feel like I've really found my home. And my people."
Lanie, who also recently turned heads for her role in The Dressmaker, is relishing the plot twist her life has offered. "We met really briefly quite early on my trip and then we were in contact kind of courting over the phone while I was travelling. A couple of months later, we met up and it was kind of like all on, so it was very unexpected for both of us, but it's just incredible, so we're very lucky.
"I met the love of my life, it's amazing."
The lucky man to take the "love of her life" title is documentary maker Tom Hearn. He runs regional film company BushTV and has won awards for his work, especially working with indigenous communities.
Yeppoon is perhaps somewhere that Lanie, who grew up on the NSW central coast, never imagined living. But her daily life, which is filled with blissful routine and physical and spiritual nourishment, is one she is cherishing. The stress of her life has decreased by several notches. She's a different person.
Mornings are filled with walks on the beach, yoga and meditation. And she spends her days busy working on projects and making art. She couldn't be happier.
"Basically, Monday to Friday I'm pretty much a recluse in our beautiful bush home on a couple of acres. I get up really early every morning. We do our exercises, a beautiful morning routine, do some work in the day and go to bed really early. On Saturday morning, we go into Yeppoon, into town, which is about half-an-hour away and we go to the local farmers market. I'm friends with all the farmers now and I love having that consistency in my life. I go every Saturday without fail.
"They have a beautiful little chai caravan and everyone will sit and have chai and you see the same people and it's really sweet. The old people go and have their chai and you just sit and then you go home and take the food home, wash the food. It's very simple and that's my week. I love the simplicity of my life."
While Lanie no longer has a label or management, she might occasionally still play a show. And for lucky attendees that includes this year's Woodford Folk Festival. She's surprised that in all her years of performing – and her love of the hippie life – she's never performed there before. So when they asked her she couldn't say no.
"When Woodford asked me to play I was so happy and then this little tour unfurled," Lanie says. "I wasn't really expecting it to. It's just such an awesome opportunity. It's Woodford's 30th year, and I'm 30, and I'm opening the main stage."
She's also making artwork and merchandise for the shows herself, which means screen-printing tea-towels and T-shirts with her designs.
"I've basically been taking all the art that I did while I was travelling and making beautiful prints. So I'll be selling them – limited edition prints of each artwork, there are about 15 works – just in a simply presented way, just something for people to take home."
Giving up what for many would be a dream career wasn't an easy decision, but it was something that finally felt right. When she was ready, she knew.
"I was in so much pain about it for so long and had such a deep resistance to everything that was happening, because it didn't feel natural to me anymore," Lanie says.
"Once I had the realisation that I didn't actually want to do it, it was this huge relief just to realise that. A very profound moment in my life that I'll never forget. Because I'd been carrying that burden around, of doing something that in my heart, and body, I didn't want to do."
At that stage, she wasn't sure if she'd ever want to perform again.
"So to make the decision to do some more shows and do the festival and things like that, was fairly … (I thought) do I want to do it? Am I ready? And yeah, I am … I don't know how often that's ever going to happen. I could not even say if I'll ever … I don't know. I just don't know.
"All I know is that life is so unexpected for me and I literally just go with the flow. And that may never take me to performing again. I just really don't know. I like that, though."
While her circumstances may have changed, Lanie has changed too. She may have been grouchy and irritable before, by her own estimations; but now she's open, warm and welcoming, facing each day with a heart as big as the sky.
"This last year has been so wild and unexpected," she says. "I think always the change comes from inside. Sometimes you get almost this divine intervention and you get the opportunity to change deeply held stuff about yourself and make your life better. And other times, it's directly a reflection of your inner state of mind or heart.
"I've just been on a massive journey to being much more of a realised, conscious person."