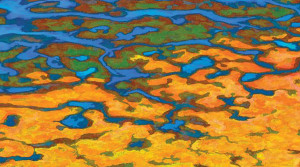 Originally published in U on Sunday magazine in The Sunday Mail.
When Steve Parish recently delivered a photography workshop in Noosa on the Sunshine Coast, many people came up afterwards wanting to talk to him. But they weren't there to ask him about lens selection or shutter speeds or how to capture the perfect shot of a cormorant mid-flight. They wanted to talk about mental health.
It's a dialogue that the renowned multi-award winning nature photographer and Order of Australia recipient recently opened up and since then the response has been overwhelming.
Many know Steve for his stunning photographs that have graced calendars, postcards and walls, capturing a defining vision of Australia and its amazing natural diversity. But the man behind the camera admits he has long struggled with mental health – whether dealing with divorce, cancer or the loss of his business in the 2011 floods.It's something he has felt since growing up a disenfranchised young boy in a strict household in Adelaide.
For him, nature has provided a great healing respite and it's that which he hopes to share with others in his project Nature Connect.
"The whole planet is this ball of anxiety and stress and of course the population is growing and growing and growing, and so I guess at 70, with a lifetime of nature connection and experiencing things like, oh wow, isn't this possum wonderful? isn't it wonderful we've got 50 kinds of macropods, kangaroos, and aren't they fantastic creatures?, I wanted to step out in my 70th year and say hey, I've had blessings along the way through this nature connection, I can see people are suffering, wouldn't it be good to get a conversation going on how we can release and reduce our emotional suffering?"
The project – in which he hopes to generate a dialogue about mental health and the healing powers of nature – is being launched with Steve's first fine art exhibition As One at the Brisbane Powerhouse. Part of the proceeds will go to Bush Heritage and the Queensland Alliance for Mental Health.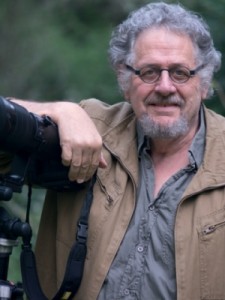 It's his first fine art exhibition because while Steve may have covered Australia coast to coast in his 50 years as a wildlife photographer, turning his photographs into fine artworks via digital manipulation is a recent endeavour. From cute koalas, wide-eyed possums, curious frogs and jaw dropping landscapes, nature has been his palette. But recently he has has turned to creating fine art from his photographs through digital manipulation, bending the pixels at will to capture not only the beauty of what he saw but the emotion he felt in the moment.
"For 50 years I've never seen myself as an artist," he says. "I've seen myself as a naturalist expressing the beauty of nature."
In the hall of his home in Brookfield, outer Brisbane, hangs a picture that inspired the title of the exhibition – As One. Lively and colourful asSteve himself, it shows a network of tributaries coalescing into one which eventually finds its way to Lake Eyre. He remembers the moment flying overhead. "It's staggeringly beautiful," he says.
The artwork is a metaphor for human consciousness and the power of what can be achieved collectively, something Steve hopes to encourage through Nature Connect.
Steve shares his home with his wife and business partner Kate Prentice and one of his step-daughters, Jessica, a fashion student. The 60s style bungalow is decorated in warm earthy tones; a fire crackles in the living room. Outside is the bushland that Steve loves yet in reach of the city. South East Queensland has the most diverse greater metropolitan area of any in the world, Steve says. Quincy the dog patters the kitchen floor which leads to a veranda outside where cockatoos come to visit statues of other birds. It's a rental; the house they owned is down the road, but they lost all that in 2011 flood.
"I went from being a multi-millionaire to worth a few thousand dollars overnight," Steve says with a rueful chuckle.
The flood took out the offices of Steve Parish Publishing in Oxley, destroying photography equipment, $600,000 worth of books and about 150,000 transparencies. The claim for insurance of three million was rejected as the insurer argued it wasn't a flood but an inundation. At the same time, the company which owned Bookworld, Angus and Robertson and Borders went into bankruptcy owing them close to a million dollars. There was nothing for Steve to do but declare bankruptcy himself, something which he has only just come out of this year.
Steve shrugs that off as if that wasn't the worst of his problems. Dealing with bowel cancer in 1996 or break-up of two marriages was far worse. But Steve isn't talking about these things to elicit sympathy, rather to highlight the very human struggles that life can throw at us.Steve knows he's not alone and wants to make sure others know they are not alone also. By opening up about his own life, he hopes to encourage a conversation about mental wellbeing. It was late last year when he decided he wanted to get the conversation going.
"I actually had an epiphany," he says. "I had a major depressive bout at Christmas. And I guess it has been as a result of career change and appreciating that I was entering my 70th year, and while I had preached and taught in my books the importance of nature connection, I'd never really done something to generate a conversation."
Mental health is a constant topic on our televisions and newsfeeds. Almost half of all Australians will experience a mental health issue of some kind in their lives. Mental health services costs Australia more than $7 billion dollars a year. Six Australians die from suicide each day.
The benefits of nature on mental health are well documented, yet it's easily shrugged off. But Steve says connecting with nature doesn't necessarily mean going to Kakadu.
"Even at lunch time, leaving the office going into the park, it could be a cooch lawn and a
British tree, but its fresh air, it's green, it's a blue sky, it's white stunning clouds, and whether you realise it or not, sitting there on the park bench having your sandwich, you are giving yourself mental respite you are giving yourself a healing. You then take yourself back into office on 47th floor staring at computer screen and you at least can extend your mental capacity for the rest of the day. So nature connection shouldn't be seen as being as being at Uluru or diving on the Great Barrier Reef, it's a mind state and you can do it anywhere.
"The creation of gardens, growing native trees that are more likely to attract native birds and being blessed by a visit on a Sunday morning by a cockatoo, while you're having coffee on your back veranda probably with your tablet these days, and feeling elated and blessed. Humans need to be blessed.
"A connection experience is a state of mind. It's got to do with going into the present moment, and you can do it in front of a pot plant, you can do it looking out a window if you're in hospital.
"I remember when I had bowel cancer in 1996, waking up after surgery I didn't think I was going to make it, and when I opened my eyes after the 12 hour operation, heavily sedated, I saw a blue sky and a green tree outside the window. It wasn't even a native tree. But every time I see blue and green it triggers that moment."
…
Steve grew up in Melbourne and Adelaide in a strictly religious family which was far from warm and fuzzy. His mother was a Pentecostal preacher who was very dogmatic. His father, an engineer, was a "sweet old man" who was "Elizabethan" in his attitudes and never expressed emotion.
In his youth, before his love of photography took hold, his passion was for firearms. He had 17 of them by the age of 18 and worked as an apprentice gunsmith. There were moments when he was tempted to use them on himself. Instead he fired a shot that blew the tiles off the roof and "frightened the shit" out of his family. He still has ringing in his ears to this day. When he hears about disenfranchised youth today he feels nothing but sympathy.
When he was 16 he was invited on a diving trip with the South Australian Museum to Kangaroo Island with underwater photographer Igo Oak. Igo handed him the camera and he took his first shot of a small silver fish. It began a life-long passion. Steve continued to photograph marine life for the Australian Museum in Sydney and his diving skills increased when he joined the Navy at the age of 18. In 1965 the Navy stationed him in Jervis Bay on the New South Wales coast.
The work he was doing for the Australian Museum was pioneering – and the encouragement he got from museum leaders gave him a sense of purpose. That came into focus on a diving trip with renowned underwater naturalist Neville Coleman, when Steve was around 20.
"I remember sitting on a clifftop in Jervis Bay and Neville turned to me and said, Stevie isn't it fabulous that we have a reason for being?"
That concept of a reason for being is one that resonates with him today – the power of having a purpose beyond the day to day – and it's a core value in mental wellness and something he hopes to encourage in others.
In 1974 he moved to dry land and to Queensland where he began working as a photographer for the newly formed Queensland National Parks and Wildlife Service.  He set up his business Steve Parish Publishing in 1985. His career has been full of not only inspiring plants and animals but inspiring people, many of whom he talks about in his book 50 Years of Photographing Australia.
…
Steve knows what it's like to wake up at in sweats at 4am worrying and wondering, what will become of me? He calls these mind stories, calamitous narratives about our problems with which we frighten ourselves.
"You wake up and think, oh shit, what's going to happen? Am I going to have my job at the end of the month? What's going to happen next year? Does my partner really love me? Or historical mind stories: my mother didn't love me and I'm feeling sorry for myself. I call those poor little me stories. I'm just as guilty as suffering these things.
"So if the story you're telling yourself in your head that means you wrote it, so you can rub it out.
"I was 65 before I realised there was such a thing as a mind story. And I remember what opened my eyes was listening to a CD by (mindfulness teacher) Eckhart Tolle."
One thing that helps, he says, is feeling a connection with something outside of ourselves, whether that be family, community or nature.
"The natural world is riveting, it's exciting, it's full of awe, it's full of colour, it's full of form, in fact all of the colours on the planet, all of the design elements that we look at every day, have been inspired by nature.
"Unfortunately the majority of people on the planet don't see themselves as part of nature. So when we flick on our screens at night we see disconnection. We see when we drive from Darwin to Kakadu massive land changes, feral plants have taken over, mining trucks pouring up and down the highway, so for me seeing these events occur on a regular basis over a very long period of time, I can see that if nature is to be protected or defended it can only happen if the broader population has some reason to want to defend it."
Sharing his passion with others through the dialogue his workshops have generated has been rewarding for Steve. He has been delighted to see the impact on others, from the 14-year-old boy who went from photographing out of focus fuzzy ducks to pin-sharp birds on the wing, to the ordinary blokes who felt brave enough to share their stories of hardship, to the women who are leading the charge sharing the photographs they have taken on social media, reliving the thrill of their encounter with the natural world now that technology has made that more accessible than ever. There are countless examples of it.
"When you do tours, you take people out in the bush, you see the housewife that's raised children and supported her husband all of a sudden has got this hobby, this ability to experience an emotional exchange between herself and a dingo drinking or a sunset on a big old gum tree and make images and process them and create with them and write about them and share them. All of a sudden her life is, 'wow' – it's pretty simple stuff."
And it's available to everyone.
"The opportunities are there," says Steve. "We have a choice in life. We can either wallow in our self-pity and anxiety and stress, or we can choose to step out and do something creative and create a reason for being. And I think through the exhibition, through the workshops that we're running, I want to motivate people, I want to create an army so then with Bush Heritage we're then going to take that story to Canberra, to Melbourne to Adelaide to Sydney to Hobart to Perth and keep it going and hopefully through these kind of opportunities we'll get that conversation going.
"So instead of talking about ISIS let's talk about reason for being, let's talk about fun, let's talk about connecting with each other and sharing the joys of connection."